Creating A Backyard Oasis
We Give You Our Top Tips On How To Create An Amazing Oasis In Your Own Backyard
When it comes to creating a relaxing backyard retreat, choosing the right swimming pool, water feature, plants and furniture, are all important decisions. As Australia's largest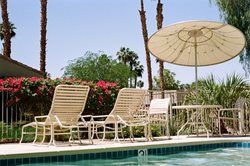 installer of premium fibreglass in-ground swimming pools, and a specialist in all areas of pool landscape construction, we've put together our top tips for creating your ideal oasis for both relaxation and fun.
Step 1: Choose your pool
Before you begin, you'll need to decide what type of pool you would like to install. First and foremost, are you after a plunge pool or a family pool?
Our years of industry experience has taught us a thing or two about what swimming pools Perth consumers are after, in particular, plunge pools and family pools. If space is at a premium, or you're after a pool that will make lazy Sunday afternoons at home feel like a holiday in Bali, a plunge pool could be for you. Usually smaller in size than a traditional swimming pool, a plunge pool is designed to invigorate and refresh the body, and is perfect for an adult-only space.
A family pool, on the other hand, is more traditional in design, and can encompass both relaxation and fun. Regardless of whether you want a peaceful soak, or enough space to splash around, designing a stylish and functional pool that will suit your space, and your needs, will ensure your backyard is the oasis you've always dreamed of.
Step 2: Add your features
There's a plethora of decorative extras you can include in your backyard's design, but a pool water feature is guaranteed to attract attention.
From a small or grand-scale waterfall, to jets and ponds, including a water feature in your space will generate a tranquil ambience that will eliminate any surrounding noise pollution. A water feature will also be an eye-catching focal point.
Step 3: Select your plants
Towering shade trees, mid-size shrubs and low-lying ground cover will all help to generate textural interest in your outdoor area. Deep-purple ground cover that grows no taller than 12-inches, a layer of medium-height orange bromeliads and green feathery cycads, when combined with a canopy of palms, are a fool-proof way to ensure your backyardoasis is a private retreat that is both stylish and functional.
Seasonal pops of colour, tropical-style plants like orchids, and plants that are hardy enough to survive in a poolside environment are also essential. To keep your pool debris-free, avoid deciduous trees and don't plant any taller varieties too close to the water.
Step 4: Think about your furniture and accessories
The type of furniture you choose to accentuate your backyard will completely transform the entire space. From tables and chairs to benches and hammocks, having somewhere to sit and entertain family and friends is a must. A hanging egg chair or hammock will be a stylish reading nook, or perfect for relaxing afternoons, while a rattan outdoor setting or colourful deck chairs will be a comfy spot for your kids or guests to hang out.
Regardless of your plan of attack, Barrier Reef Pools can assist with your Perth pool landscaping needs, as well as any installations of family or plunge pools in the Perth area. So, what are you waiting for? Enquire today, and we'll get you started on your landscaping journey.