Fibreglass Pools Kalbarri
Barrier Reef Pools Perth Authorised Dealer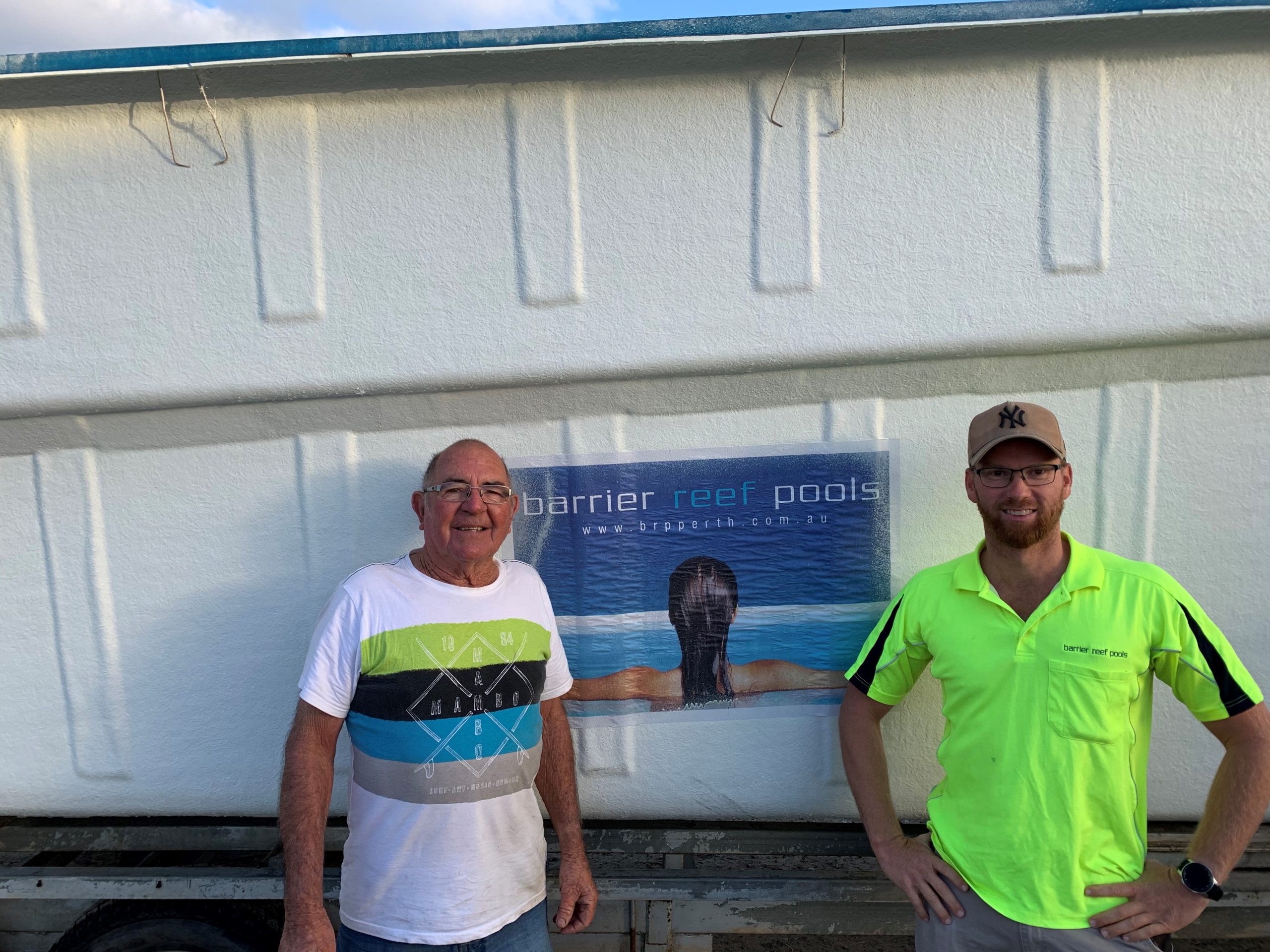 Barrier Reef Pools Geraldton
About Barrier Reef Pools Geraldton
Born and bred in Geraldton and with 50yrs in the pool installation and construction business, no job is too small or large. Every pool installation is never the same. We have a free quoting service and come to your home before we give a price. We can supply just the pool shell or we can do the complete project, pool install and landscaping.
We pride ourselves on exceptional customer service to provide you with a positive experience with us. Give us a call today to discuss your options!
Check Out What Our Happy Customers Have To Say!
Highly recommend these guys. Great service and 5 star product
Welcome to Kalbarri, Western Australia, where you can elevate your outdoor living experience with a stunning addition to your backyard: a fibreglass pool from Barrier Reef Pools Perth. Discover why a fibreglass pool is the perfect choice for Kalbarri residents:
Embrace the Kalbarri Lifestyle: Kalbarri is renowned for its natural beauty, stunning landscapes, and outdoor recreational opportunities. With a fibreglass pool from Barrier Reef Pools Perth, you can fully embrace the Kalbarri lifestyle and create your own personal oasis in your backyard. Immerse yourself in the refreshing waters, relax under the sun, and enjoy the laid-back charm that Kalbarri offers.
Designed for Western Australian Conditions: Barrier Reef Pools Perth understands the unique climate of Western Australia, and their fibreglass pools are engineered to withstand the demands of Kalbarri's weather. From the intense heat to occasional wind and saltwater exposure, a fibreglass pool is built to be durable, UV-resistant, and capable of withstanding the coastal conditions of Kalbarri.
Low Maintenance and Energy Efficient: We understand that your time and energy are valuable. A fibreglass pool from Barrier Reef Pools Perth is an excellent choice for Kalbarri homeowners because it requires minimal maintenance. The smooth gel coat surface inhibits algae growth and simplifies cleaning, allowing you to spend more time enjoying your pool and less time on upkeep. Fibreglass pools are also known for their energy efficiency, helping you save on electricity and chemicals while maintaining crystal-clear water quality.
Swift and Hassle-Free Installation: Barrier Reef Pools Perth's experienced team ensures a swift and seamless installation process. Fibreglass pools have a shorter installation timeline compared to other pool types, allowing you to start enjoying your pool sooner. Experience minimal disruption to your daily routine as your backyard in Kalbarri is transformed into a captivating oasis.
Versatile Designs to Reflect Your Style: Barrier Reef Pools Perth offers a wide range of fibreglass pool designs to suit your personal style and complement the natural beauty of Kalbarri. Whether you prefer a modern geometric pool or a more organic, freeform shape, there's a fibreglass pool option that will enhance the aesthetics of your backyard and perfectly align with your unique taste.
Longevity and Warranty: Barrier Reef Pools Perth takes pride in the durability and longevity of their fibreglass pools. Crafted with high-quality materials and expert craftsmanship, your pool will stand the test of time, providing years of relaxation and enjoyment in Kalbarri. Additionally, Barrier Reef Pools Perth offers a comprehensive warranty, ensuring that your investment is protected and giving you peace of mind.
Unleash the full potential of outdoor living in Kalbarri with a fibreglass pool from Barrier Reef Pools Perth. Contact their knowledgeable team today and let them guide you towards the perfect pool that will transform your Kalbarri residence into a haven of relaxation and entertainment. Experience the joy of a fibreglass pool, and make every moment in Kalbarri truly extraordinary.