What to look for in a pool builder
Once you've made the decision to purchase a pool, the next step is deciding who you want to build it. This process requires careful consideration, after all a swimming pool is a substantial investment and you want to be sure that you are getting the best value for money. If this is your first time installing a pool, you might not know where to begin. We have put together some tips on what you should look for in a pool builder to help you make the right choice.
They should be highly experienced at installing the pool type you want
There are few options on the market when it comes to swimming pools. They include vinyl liner pools, concrete pools, and fibreglass pools. To get the absolute best result, it is important to use a pool builder that specialises in the type of pool you want. Before you hire them you should ensure they have extensive experience building pools on all types of sites.
Check their references and reviews
This is one of the best ways to confirm the quality of the pool companies work. The pool builder should have examples of their pool builds and customer feedback on their website. You can look up the companies reputation online by typing their business name into a search engine. Online reviews are a popular way for customers to leave feedback. If the overall feedback is positive, you can trust what they say. If you have been recommended to a pool company by a friend, colleague, or family member that is a positive sign that they are reputable. The people you know have no reason to tell you otherwise. A pool builder that is confident in the quality of their work isn't afraid to give as many references as you like. You can investigate the business further by checking to see if there are any complaints lodged against the company.
If the company doesn't have many references, it doesn't necessarily mean that they are not good at what they do but it definitely requires a little extra research. Some things to ask the customers they have worked for:
1. Are they reputable?
2. Did they do a satisfactory job?
3. Is there anything you weren't satisfied with?
4. What is their work ethic like?
5. Were there any extra surprises? Delays? Unexpected costs? Issues?
6. Would you work with them again?
Ensure they are reputable?
There are some things you should look for to verify that the company is reputable. They must have a landline phone number, website, and a physical address for their company. Ensure that a mobile number is not the only way you can contact them. It is essential that they are licenced and registered, insured and offer generous warranties with their pool builds. If they are a member of SPASA they generally have a high standard of workmanship and ethics. The longer the company has been in business the more experience they will have installing pools. This is especially important to look for if you have a difficult site that you want you pool to go on, pool builders that have been in the business a long time will have extensive experience building pools on all types of sites.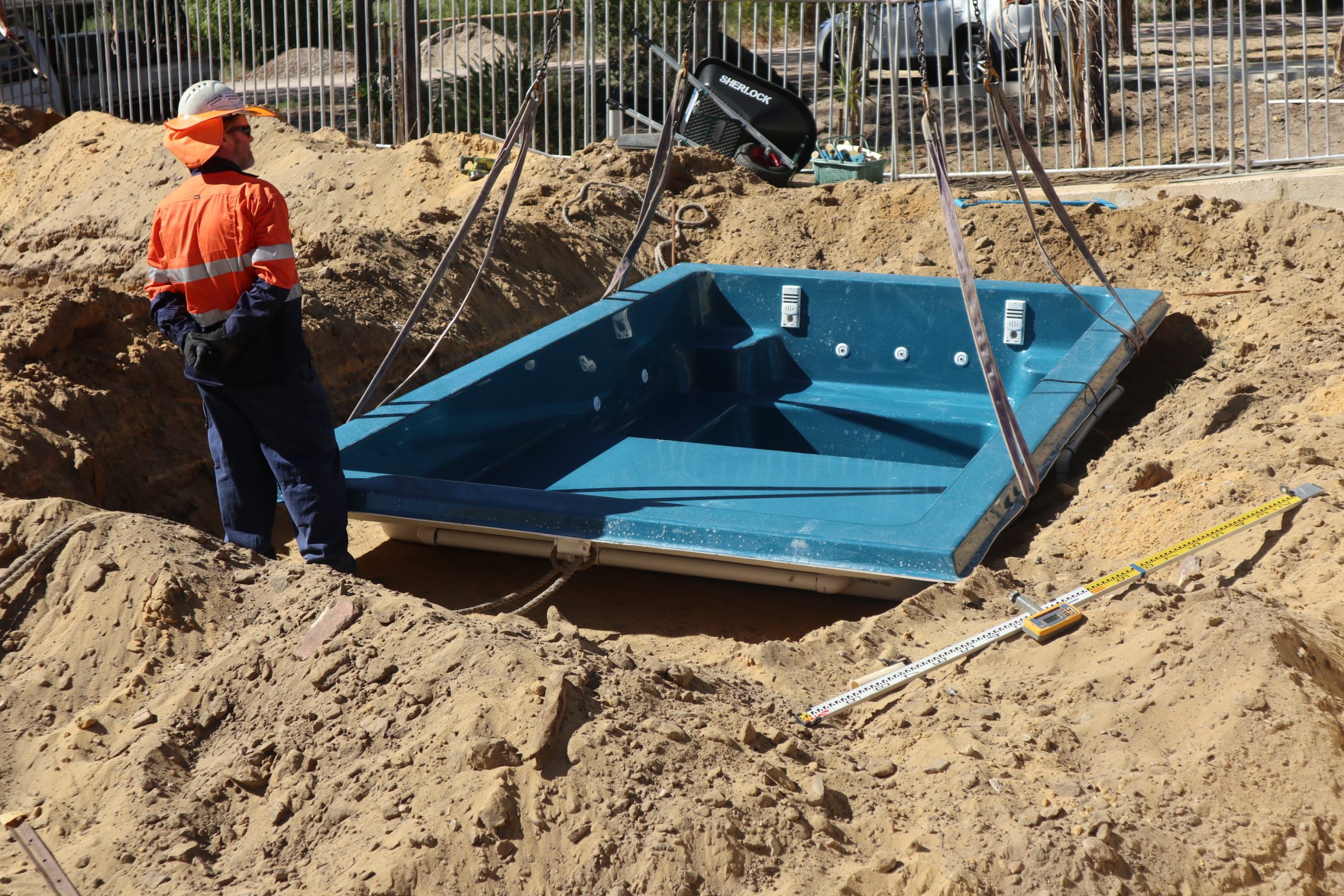 What is their pricing like?
Once you have established your pool budget, you should research the cost of the pool style you would like. It may be tempting to go with the cheapest option to save money, but make sure they meet the criteria listed above, otherwise you may see yourself with an inferior quality pool that's going to cost more to fix than it did to put it in. Remember to trust your instincts, if it seems too good to be true, it probably is. You should get a few quotes from different businesses to see which one offers the highest quality product and installation for the best price. Doing a bit of research now can save you headaches down the track. Make sure you get your quote in writing and the price is fixed not subject to change. If it isn't fixed you could see yourself forking out extra money along the way that you may not have expected. Once your contract is written up and both you and the pool contractor have signed it, it is legally binding and will protect you if any disputes arise. Make sure this is done before any work is started.
Pool builders that do the entire pool build themselves or work with set contractors on a regular basis are generally more reliable and better at communicating. If the company uses contractors, you should ask them how often they work with them and ensure they are qualified.
The pool builder should lodge council paperwork on your behalf
This is something that they should do. Pool builders do this on a regular basis and know exactly what needs to be submitted to obtain planning permits from council. Once your relevant paperwork has been lodged and approved, they can start your pool install. A reputable company will be well aware of the pool fencing regulations and rules that are in place in your state or territory and will make sure that your pool fencing is compliant.
Are they effective communicators?
It is vital that your pool builder communicates with you throughout the entire pool building process. The last thing you want is a lack of communication and your pool prospects are unfulfilled, leaving you disappointed. You want to have plenty of conversations to ensure that your pool vision is brought to life. Good communication allows the pool builder to clearly explain the installation process and meet your expectations. When you have your initial meeting with them, ask if you will be included and kept up to date throughout the pool building process. Pool builders will be spending at least a week at your home, so ensure that they are friendly and accommodating from the beginning.
Does the pool company back their work?
Companies that have a high standard of workmanship back their pools and their construction with generous warranties. This indicates that they will do a quality job. It also gives you, the pool owner peace of mind knowing you are covered if anything unforeseen happens to your pool.
You should avoid a pool builder that:
Pressures you to make a prompt decision
Offers a drastically low price
Asks you to pay in cash
Has unprofessional mannerisms and appearance
Requests a lump sum upfront
Researching to find a pool builder that will create your dream pool for the best price may seem like a time-consuming task, however it will ensure that you are happy with your pool not only today but for many years to come. A pool is an investment and you want to be sure that it is money well spent and not going to be a regretted purchase. Our team here at Barrier Reef Pools Perth are leaders in the pool industry and extensive knowledge and experience producing superior fibreglass pools. If you have any questions regarding a pool installation for your home, give our team a call, we would love to hear from you.