Should You Get A Swim Spa?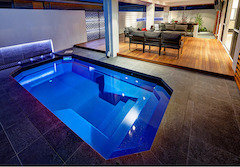 Think of a swim spa and you'll immediately conjure up an image of a place to relax and ease the stresses of everyday life while also indulging in a little exercise. Heated ones can be used all year round — winter, summer, spring, or autumn. An outdoor swim spa is a perfect place to socialise and unwind. There are huge benefits of owning a swim spa, not least because it can easily fit into a smaller backyard. Many people like to install a pool and swim spa combo to give them the best of both worlds. Here are five good reasons which may swing your decision to get one.
Relaxing in the warm, bubbling waters of a swim spa can be both physically and mentally beneficial. While we can't avoid the stresses and strains of modern life, we can try to relieve our anxieties. Spa use stimulates the release of endorphins, which is the body's natural feel-good chemical.
Swim spas are ideal for anyone wanting to indulge in some low-impact exercises. High-powered jets can create a current which is strong enough for a user to swim against and can provide greater resistance than doing large laps of a pool.
It's perfect if you want to strengthen your swimming skills and incorporate regular exercise into your day.
If you've been working out in a gym or had a brisk run in a park, a swim spa will help you to recover. The warm water and the flow from the jets stimulate increased blood flow to the limbs relieving stiff muscles and reducing inflammation. It can be very effective at easing arthritic pain as the buoyancy of the water will take away any stress on your joints.
Swim spas can relax your body and mind and promote better sleep. The warm water will raise your body temperature. Regular use of one allows you to establish a better sleep pattern which will help to increase your productivity during the day and make you more alert.
5. Brings Friends And Family Together
A swim spa is designed for more than one person and can be a great place to unite friends and family and to bring everyone together. Sitting with a friend or small group in a swim spa is an opportunity to enjoy some downtime.
Swim spas offer all the benefits of a hot tub and a swimming pool without taking up a huge portion of space.
Swim spas offer all the benefits of a hot tub and a swimming pool without taking up a huge portion of space. Here at Barrier Reef Pools, we can advise you on the best ones for your budget. All our swim spas come with a lifetime structural and surface guarantee. We are WA's most awarded fibreglass pool company, winning 121 Swimming Pool and Spa Association of Australia (SPASA) Awards since 2009