We live in a world where technology has made life easy. The IoT or Internet of Things is the most popular technology. It allows you to interconnect different devices to have a smart home. You can then control your smart home from anywhere using a mobile app. When your home has a swimming pool, why leave it out from automation? You can automate your pool to create a smart swimming pool that is easier to manage. The article provides all the information you want to know about pool automation and smart pools.

What Is Pool Automation? Do You Need It For Your Pool?
A smart pool is one that uses automation and makes its operation and maintenance easy for the owner. Pool automation refers to the use of technology and equipment to maintain your pool easily and from wherever you want. The biggest problem in pool maintenance is the time and effort needed to carry out maintenance. From cleaning leaves and debris to operate the filtration system, pool maintenance can be cumbersome. There are other tasks like covering the pool, switching on/off lights, adding chemicals, etc., all of which require time and effort.
Automation makes all these easy and convenient to control. You can control it with a central remote. It is even possible to have a mobile app through which you can manage all these functions. The question then is do you need automation for your pool. Looks at these scenarios to understand things better.
If you are on vacation, then there is no one at home to switch on the pool filter. With automation, you can schedule the filtration pump to switch on for a few hours daily to ensure the pool remains clean. You can even schedule it run during non-peak hours when the energy tariff is lower. Did you forget to cover the pool when you left home for a holiday? Don't worry! With pool automation, you can activate the pool cover remotely ensuring the pool is covered and won't get dirty.
Are you traveling home after a busy day and want to spend time in the pool? Will the water be cold because of the weather? Again, no problem! You can switch on the pool heating as you leave office, so that the water is warm and comfortable by the time you reach home. Did you forget to switch off the pool lights? You don't need to get up from your bed. Just pick up your mobile, use the app, and switch the lights off. You can even program the lights to be switched off when no one is around the pool area for a certain time.
All these are easy when you automate the pool. If the idea of a smart home appeals to you, then you can consider getting pool automation to create a smart pool.
How Does Pool Automation Work?
Pool automation makes use of equipment with the latest technology that allows you to communicate with the equipment. This equipment installed would be internet enabled. As long as you have an internet connection, you can connect to this equipment from anywhere and at any time. The equipment would be installed in the pool and would come with a pool control system. The control system is internet enabled. You can configure it to connect to your home Wi-Fi. This ensures the control system is online.
You can then use a controller device to control the pool from anywhere. You can even control it remotely. Most automation systems would offer a mobile app to help you control the system. You will get apps compatible for iOS and Android phones. All you need to do is download the app and log in to your pool control system. You can then operate the system from anywhere in the world – the only requirement is internet connectivity. You can switch off lights, cover the pool, and run the pump from any corner of the world.
Pool Automation Systems – What Can They Do?
They are two options when it comes to pool automation. One is a complete automation system that automates everything related to your pool from the filtration pump to lighting. Such a system would naturally be expensive. The other option is to choose a la carte. If you don't have lighting or don't have a pool cover, then it doesn't make sense to choose full automation. You can instead choose to automate specific functions, like maintenance and cleaning.
The following are the types of pool automation available. You can choose any one of them or choose to get all of them installed.
Pool heating can be automated. You can have a pool heater installed and connected to the control system. You can switch on the heating remotely so your pool is warm and ready. You can even get a system with temperature sensors that will automatically switch on the heater if the water becomes cold.
The filtration pump needs to run for around 8 hours a day to keep the pool water clean and in good condition. With automation, you can schedule the pump to switch on and off and pre-decided times. You don't to have worry about doing it manually.
3. Chemical Level Monitoring
Advanced automation systems have sensors that detect the chemical content in water and automatically add the amount of chemicals needed. This gives you a lot of convenience in pool maintenance.
You can get an automated pool cover that can be operated remotely. When no one is using the pool, the sensors can send you an alert and you can activate the pool cover. Similarly, you can open the pool cover even before you reach the pool.
Pool lighting with smart lights can be controlled remotely. You can even use voice commands to control it. You can schedule the lights to be switched on and off at particular times.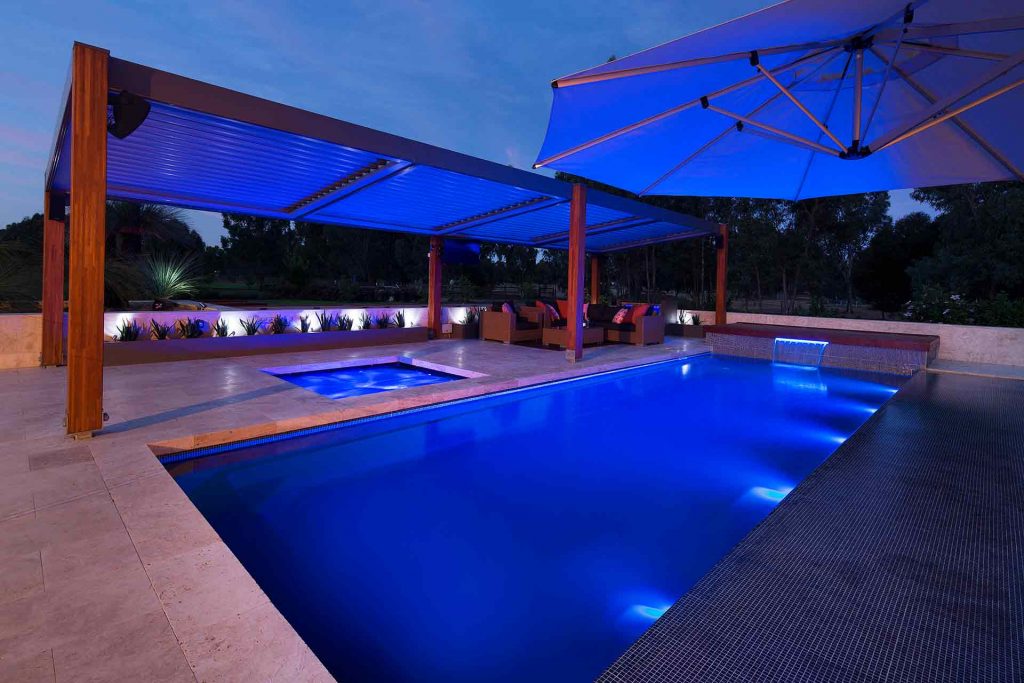 One of the most powerful applications of automation is in pool cleaning. A self-cleaning pool detects when the pool is dirty and uses nozzles to push debris to the drain in the pool. When not in use, these nozzles are hidden so no one can see it. A pool cleaning system can save a lot of time and effort spent on cleaning. It is expensive but extremely useful for people who use their pool regularly.
Pool automation is surprisingly, not very costly. Basic automation can be done in around $3,000. The investment made saves you a lot of time. The more advanced systems you want, the more would be the price. Ask the company to give you a demo of the products so you can check if it suits your pool. The final costs would depend on your pool size and shape.
Pool automation is a great feature that allows you to manage your pool maintenance and other functions easily. It gives you the convenience of linking your pool to your smart home and managing everything through your mobile home. Depending on your need and budget, you can choose the level of automation. You can contact a pool consultant or an automation company to get this system installed in your pool.