Keeping fit and healthy has never been more prevalent than it is now and with Australian backyards decreasing substantially in size over the years, lap pools provide the perfect solution. If you are considering a lap pool for your home, you've come to the right place. We've put together this article to highlight everything you need to know about lap pools to help you decide if they are a good choice for you.
Before we go into to the details of a lap pool, we will first explain what a lap pool is. Lap pools are designed with fitness and swimming laps in mind. They are suited well to those who want to a convenient exercise option at home. Lap pool are usually long and narrow in shape and are perfect for those wanting to master their swimming technique. They can also be used for relaxation, fitness, and water sport activities. They are a good pool solution for people residing in homes with small backyards or a narrow space to work with.
What sizes do lap pools come in?
Lap pools are rectangular in shape and offered in various sizes. Normally they are around 8 to 12 metres long by 3 to 4 metres wide. They are generally around the same width as two swimming lanes with ample room to take a dip on a warm day. The depth is usually less than that of a regular sized swimming pool and is around 1.35 metres deep, this enables the swimmer to walk and swim laps.
How is a fibreglass lap pool made?
Fibreglass lap pools are constructed onto a pool mould in a manufacturing plant. They are designed using high grade fibreglass and have extreme tactile strength and durability. Once you have chosen your lap pool it's just a matter of getting it delivered to your home and installed.
Can I design my lap pool?
The actual shape of your lap pool cannot be altered however, there are many ways you can modify your fibreglass pool to suit your personal tastes and preferences. Here are some features and design elements you can choose for your lap pool:
As lap pools are smaller in size, they are economical and heat effectively. Installing a heating system in your pool allows you to use your pool when the weather is cooler and in times when you want to rest and relax.
Lighting is an effective way to enhance the overall aesthetics of your pool area. At night it can highlight the pool and draw you outside for a swim on a warm summer's night. It also makes the area safer too. There are many innovative lighting options available today and you can find one to suit your home.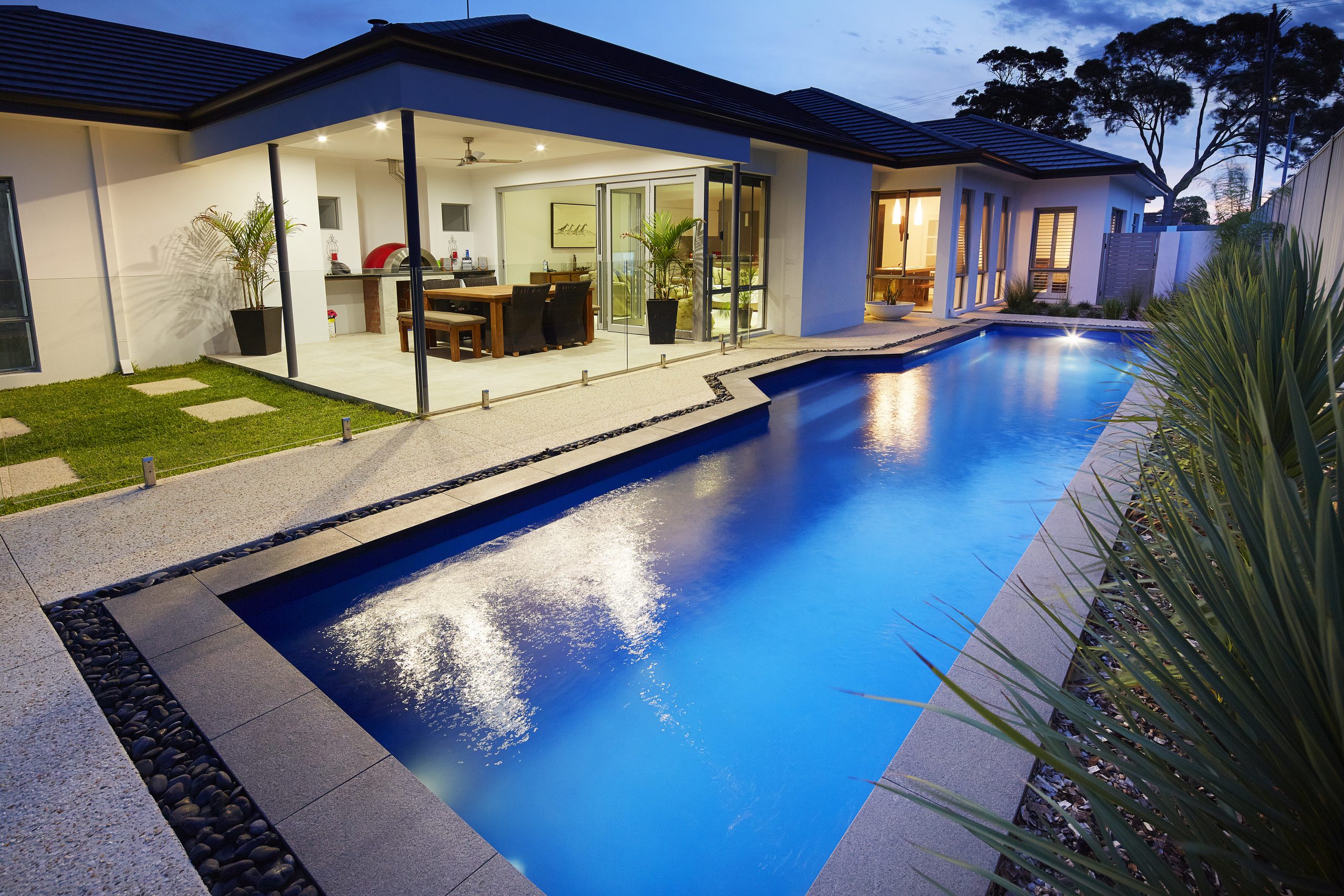 Most fibreglass pool companies have a selection of gel coat pool finishes to choose from. Your pool builder can advise you of your options and which colour will work best with the existing theme of your backyard.
Spa jets are commonly added in a lap pool to create a resistance to swim against when doing laps. They can also be used to relieve tired muscles after a workout or a long tiresome day.
Get creative will pool scaping ideas
You can design the look of your landscaping and pool area to suit your style ideas and to compliment your lap pool. There is no rule book here, you can get as creative as you like.
Consider smart pool technology
Smart technology for lap pools is the way of the future. It allows you to clean your pool from the convenience of your smartphone.
How is a lap pool installed?
A lap pool is installed very similarly to a normal sized pool. There just isn't as much groundwork that needs to be done. Lap pools can be installed inground, partially above ground or above ground. Which method you choose is dependent on your preferences and the layout of your backyard. Sometime backyards that are sloping are better suited to a partially above ground or above ground installation however, the most common way to install a fibreglass pool is inground. Put shortly, this process involves excavating the ground, your pool will be delivered to site and lifted into positioned by a crane, it is adjusted and levelled to ensure it is exactly where it needs to be. Backfill is placed around the pool and compacted, concrete is poured and left to dry. Once dry, your paver or tile choice will be laid. Your pool is filled with water and balanced and any last electrical and plumbing will be completed. Your pool will undergo a quality test and is then handed over to you to enjoy.
How much time does it take to install a lap pool?
As fibreglass pools are delivered to site and aren't built from scratch on site, they are very easy to install. If you have a flat yard with good access your pool can be installed in less than 7 days. Keep in mind though things that are out of the pool builders control such as weather conditions can extended the time it takes to install your pool.
How much does a lap pool cost?
There are a lot of factors that can affect the price of a lap pool. Added inclusions such as pool fencing, the condition of your backyard, the pool scaping you choose and features such as lighting can all add to the cost. The workmanship of a lap pool is the same as a larger pool, so some may be surprised when they discover the price is similar. To give you a rough idea, an entry level professionally installed lap pool starts at around $20,000. To get an exact price, it's a good idea to contact your local pool company. Many offer free onsite quotes.
Why should I pick a lap pool for my home?
If you want a pool primarily to keep healthy and work on your swimming, a lap may be a suitable option for you. Laps pools are a great choice for those who are limited on space but still want to have a pool at their place. As lap pools are long and narrow in shape, they are an ideal pool for young children who are learning to swim as they don't have to swim far to get to the other side of the pool. Having a lap pool at your home saves you the hassle of having to go to a local swimming centre to do laps, it is right there ready to use when you please.
Additionally, due to their compact size they are more cost effective to run and heat, require less chemicals to them clean and use less water too. They are good swimming pool options for those who want a pool for fitness and relaxation purposes and don't have the space or need for a large pool.
Here at Barrier Reef Pools Perth we fit and install state of the art fibreglass lap pools. If you would like additional information of have any questions, give our friendly team a call.