So, you want to install a swimming pool at your house, but aren't aware of the different kinds of swimming pools there are? You've come to the right place. In this article, we tell you everything that you could want to know about lap pools. We discuss what lap pools are, who they are best suited for, the advantages of choosing a lap pool over other swimming pool options, and more.
A lap pool is a space-efficient swimming pool that can be installed into even the most cramped yard area. It is elongated in length and narrow in width, designed for facilitating lap swimming. However, a lap pool can be used for several other purposes than simply lap swimming. Besides facilitating water fitness activities, they are a boon for individuals who'd want the luxury of a swimming pool without having to forsake much space in their property. Due to the space efficiency of lap pools, they are a favoured indoor swimming pool installation option, as well.
How did Lap Pools Come Into Being?
Wondering about the origin of lap pools? We tell you here. Lap pools were first seen in ancient Greece and Rome. Citizens of Ancient Greek and Roman civilizations used lap pools for performing aquatic exercises, playing water-based games, and practicing military training.
More recently, lap pools rose into popularity again in California where their design, luxury, and convenience likened them to home and other property owners.
What Are The General Dimensions Of A Lap Pool?
The size of a lap pool can vary according to user specification. However, a lap pool's general size measures 6-8m in minimum length and 2.5m in minimum width. If you want to have a lap pool installed at your house for competitive swimming, and have the space for it, you should opt for a lap pool i.e. 25m long. A 2.5m minimum width is suggested for lap pools, so that you don't touch the sides of your pool while swimming your laps in it. You want a comfortable lap pool that does not feel like its restricting you. Lap pools tend to sport a depth of 1.5m usually, enabling enough depth to swim laps and the possibility of standing upright inside the pool, when not swimming laps.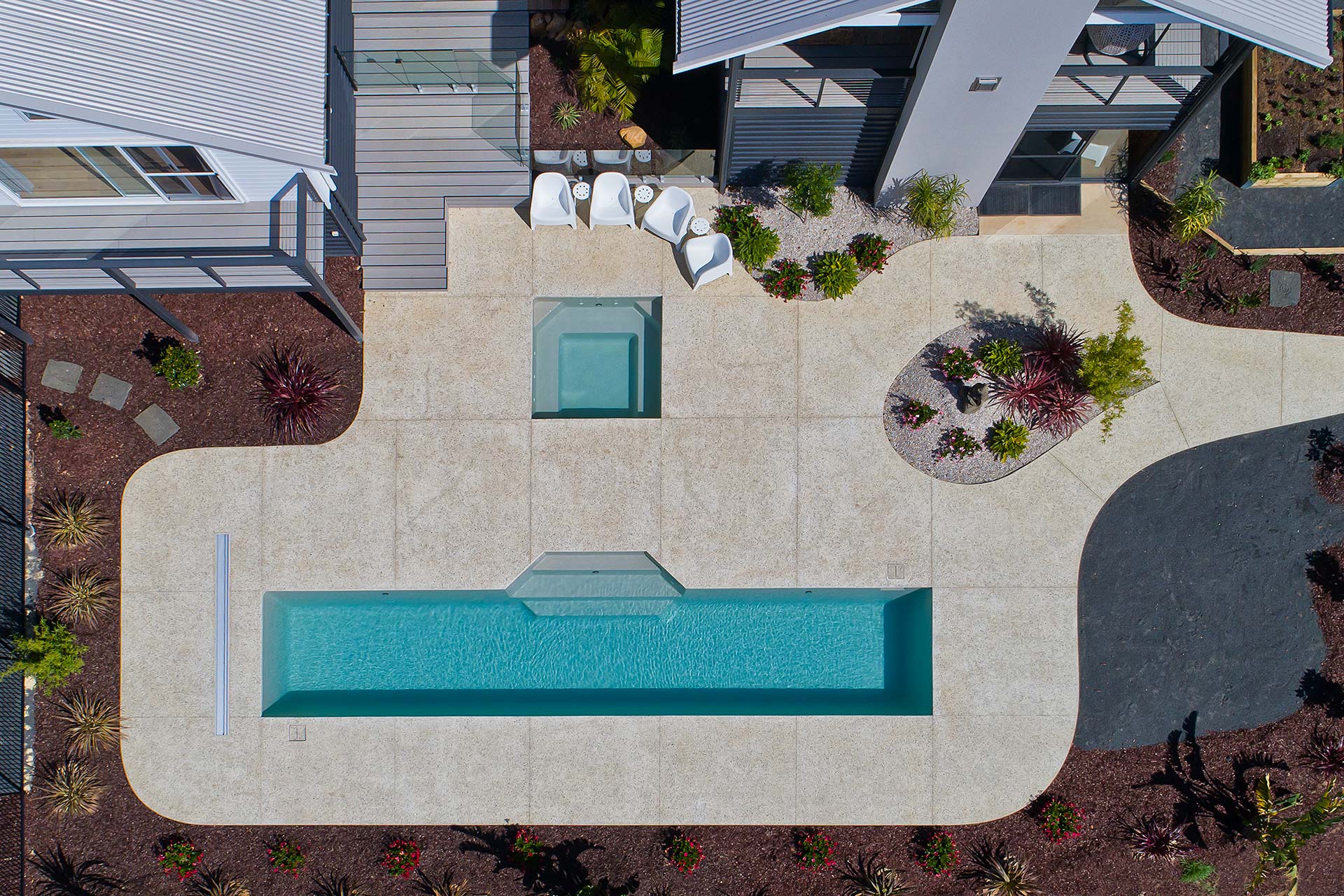 A lap pool makes for a great alternative to regular-sized swimming pools for individuals with a space paucity at their houses. Yard space is a luxury to begin with nowadays, let alone an expansive yard space. Installing a full-size swimming pool might not be an option for you. In that case, a lap pool can help you enjoy a swimming pool experience nevertheless. You don't need to worry about your swimming pool eating up all available yard space in your urban/suburban apartment when you install a lap pool.
The compact size of lap pools also makes them comparatively low-maintenance. Cleaning and maintaining a lap pool becomes easier and less expensive. They need lesser time to clean, lesser chemicals and possess a lesser amount of water to be cleaned, to begin with. So, unless you have a large family, and all of you will be using the pool – it makes more sense to invest on installing a lap pool. Cleaning and maintenance tasks will not seem as much of a chore.
In addition, lap pools also look incredibly slick and stylish. Most fashion catalogs feature them as their preferred swimming pool illustration. Modern lifestyles are more compatible with lap pools. So, it isn't any wonder that these swimming pools are so popular!
What Are The Options For Installing Your Lap Pool?
You can install your lap pool in-ground or above-ground – the choice is up to you. An above-ground fiberglass lap pool is a lot easier to install than an in-ground fiberglass swimming pool. An in-ground fiberglass pool can take up your swimming pool installation costs up by a few notches, but it will extend the classic look and feel that most homeowners desire. So, even if you do make the added investment, you are helping increase the resale value for your home anyway. On the other hand, fitting an above-ground pool will take almost no time at all. Ultimately, whether you will install an above-ground pool or in-ground pool, the decision rests with you. Both are smart options with their own set of advantages and disadvantages. You ought to pick an installation option that aligns with your lifestyle requirements.
How To Take Care And Maintain A Lap Pool
Thankfully, for you, when you choose a lap pool as your preferred swimming pool type for installing at your house, you reduce the time-effort-cost of pool maintenance. The reduced water quantity and size of your lap pool make keeping your lap pool clean and well-maintained as hassle-free as possible. If you can keep your lap pool clean and well-maintained, it will serve you for decades to come.
You will require the same set of tools and equipment necessary for cleaning and maintaining a regular-sized pool for your lap pool too. So, keep your chlorine, pH testing kits, pool vacuum and skimming net ready. If the thought of cleaning and caring for your lap pool on a regular basis does not sound attractive to you, consider investing on a self-cleaning lap pool. You can also choose to automate cleaning and maintenance chores for your pool by adding smart pool technology to your existing lap pool.
In general, the following tasks will need to be performed, to keep your lap pool clean and maintained –
Removing debris from pool floor.
Scrubbing the walls and sides of your lap swimming pool.
Chlorinating your swimming pool.
Using a pool pump to stimulate water circulation, maintain water level and discourage algae-bacterial growth due to water stagnation in your lap pool.
You can try to have these regular pool maintenance tasks automated by paying extra for smart pool technology or perform them on a scheduled basis yourself. A well-maintained pool is an inviting pool. You don't want to neglect essential pool maintenance tasks when you plan to have guests over or when you want it ready to facilitate daily swimming.
Idea For Installing A Lap Pool
You can install a lap pool indoors or outdoors. A lap pool makes for a convenient swimming pool option for those who want their swimming pool installed within their home. You can have your fiberglass lap pool installed in a well-lit area indoors for relaxing away in the privacy of your home. Yards may not always be able to afford you the kind of privacy you'd like from prying eyes. An indoor lap pool is a wonderful lap pool installation idea, in that case. You could place your treadmills and other fitness equipment nearby, and turn the area into an at-home fitness space.
If you wish, you may still install your lap pool outdoors in your yard space and then, provide the pool with a green cover by planting bushes around it. You will be free to enjoy the weather outside and receive protection from neighbors lurking at the fence.
A Multi-Purpose Pool To Suit All Your Needs
A lap pool is much more than a pool that only allows for lap swimming. It caters to a wider array of needs. You can use it to offer a safe swimming option for children, due to its shallow depths. You can host a pool party with your guests lounging in the pool without necessarily knowing how to swim, and more! The possibilities provided by a lap pool are endless. In the end, it depends on you how you choose to use your lap swimming pool.