Spectacular Furniture Ideas For Around The Swimming Pool
A swimming pool in your own backyard is the ultimate in luxury. Accentuate your Barrier Reef Pool with unique and spectacular outdoor furniture. Soak up the sun on a day bed, escape to a private cabana, or drink and dine while overlooking your sparking pool. Create your own resort where you can relax and entertain. With the beautiful weather in Perth, the swimming pool should be the showcase of your home.
The Monaco A Large Swimming Pool From Barrier Reef Pools
1. Colourful Fabric
Barrier Reef Pools are available in a variety of dazzling pool colours that shimmer under the water and create a majestic beauty in your backyard. The colour of your furniture can emphasise your spectacular pool. Blue fabric reflects the colour of the water, and complements all Barrier Reef colour choices, but especially Indigo Shimmer, Pacific Shimmer, and Royal Blue Shimmer.
2. A Dining Setting
Perth enjoys lovely temperatures all year round, including in the evenings, so we should make the most of it with outdoor dining. Create your own poolside restaurant and enjoy wine and cheese by the picturesque pool.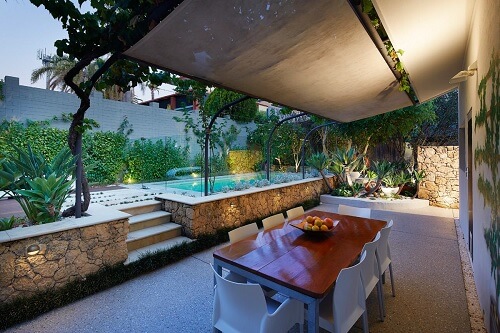 3. A Cabana
A cabana is a sanctuary where you can relax in comfort from the scorching Perth sun. Equip your cabana with comfortable lounges, and maybe even a flat screen TV. You can use materials that match your decking to create a seamless look. Inbuilt furniture by the pool has a feeling of grandeur and is incredibly impactful
4. Inbuilt Seating
Inbuilt seating gives a luxurious, planned, and seamless feeling. It can be sleek, and flush with planters. It gives much needed seating to take a break from splashing.
5. A Bar Setting
Retire from a hectic day of work and sip piña coladas at your own poolside bar. A bar set will make your backyard the ultimate place for entertaining family and friends.
6. A Day Bed
You can rent a day bed by the pool of many world-class resorts. Enjoy this coveted resting place anytime in your own outdoor oasis.
Barrier Reef Pools boast over 14 spectacular designs. Day beds come in a variety of shapes, sizes, and colours, to complement your pool style.
Rectangular day beds complement a sleek and contemporary pool design. Round day beds evoke a lush Balinese theme, and accentuate a round pool surrounded by tropical gardens.
A pool is a luxurious feature that you can exaggerate in your home. Use spectacular furniture to create your own private sanctuary, and make the most of your Barrier Reef Pool.