A well-designed swimming pool can drastically enhance the overall appeal of a backyard and one with a water feature can take the aesthetics to a whole other level. If you've decided you want a water feature for your pool, you've come to the right place. Throughout this article we will share everything you need to know to help you make an informed decision.
What is it about water features that makes them so appealing?
A pool in the backyard provides a place to relax and make memories with those you care about most. When it looks attractive and inviting, it draws you outside and you'll want to spend time using it. Including a water feature in a pool design has become a popular notion and more and more Australians are adding them to their pools. They not only create a stunning statement piece in your pool area, but they also provide an extra element of fun for the kids to play with when in the pool. Water features when done well, create a luxurious, high end feel which can drastically improve the look of a backyard, which in turn can potentially add valuable dollars to the price of your home. There are many types of water features and numerous ways you can install them. Some options include a water wall, bubblers and a water fountain. Alternatively, a water feature can be created from the off flow of a pool and spa design.
How much is a water feature?
The cost of a water feature is highly dependent on the style and size you choose and whether you are installing it in the construction phase or onto an existing pool. They tend to be a worthwhile investment as they make a great focal point in your pool area and look great both during the day and at night when lighting is used to accentuate it. To give you a rough idea, a basic water feature design will set you back approximately $1800 – $2,500, whereas bigger and more complex designs can be anywhere from $8,500 plus.
Is it better to install a water feature when the pool is being built or after?
Typically speaking it is better to install your water feature when your pool is being built from a cost perspective as connecting the pipes is a little more challenging after the fact. However, if you already have a pool, a skilled pool builder should be able to install it for you with little to no hassle. Additionally, if you would like a water feature but your budget can not accommodate one when you purchase your pool, let your pool builder know, they can adjust the construction slightly so when and if you decide to put one in it is much easier. It will save you running up the cost of your pool installation now and you can add it at a later date whenever you please.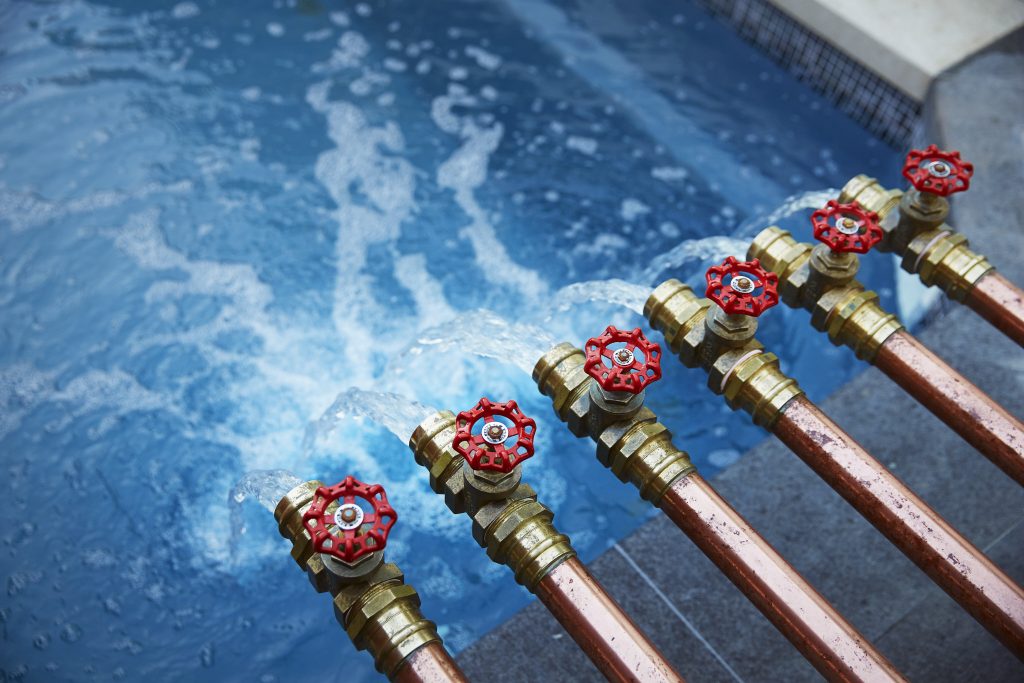 What are the different types of water features?
There are a lot of different water feature designs you have for a swimming pool. Here are some ideas for you to consider:
A water wall has a modern touch to it and they are the most common water feature added to new pools. They are typically custom built so you can have it any size and you can style it with your choice of finish to suit your tastes and backyard. Some finishes include tiles, stone stacking and coloured render.
A rainfall curtain water feature emulates the look and sound of rain falling into the pool. This sound is soothing and can put you into a state of relaxation.
To create this look, artificial rock is usually used to replicate the look of a real waterfall. As they have nooks and crannies the kids will spend hours playing here. You can have this as big or small as you like. This type of water feature is a classic and has been around for decades.
Sunpods, commonly known as bubblers are an area in the pool area that typically has a tiled section where bubbler spouts are located. They propel shoots of water upwards and make an ideal play area for kids. They make an attractive focal point in a pool area.
Deck jets are jets that spray a continuous stream of water from the edge of your pool. The water enters the pool in an arch shape and when a few of these are used around your pool it can create a beautiful feature.
Lighting for your pool can highlight your water features at night-time. This not only makes it safer to swim in but also enhances the overall appeal of your pool. You can either get them professionally installed along with your water feature or add them at a later date.
Why should I get a water feature for my pool?
Swimming alone is known to boast many health benefits both physically and mentally, including keeping fit and healthy as well as relieving tension and stress. The sound of cascading water provides a resort feel to your backyard and is known to have therapeutic effects. It can be used to enhance the relaxation experience either when swimming in the water or when sitting out the back enjoying the scenery. It provides a sanctuary to escape to for a bit of quiet time and to unwind after a long day. Truth be told, we spend more time looking at our pool then actually swimming in it.
Water is enticing to children and a water feature evokes imaginative play and encourages the kids to spend more time outside. This means the pool will be used more and everyone is reaping the benefits that water can bring whilst spending quality time together.
For the past 30 years our highly skilled team here at Barrier Reef Pools Perth has been dedicated to producing award-winning pools. We are experts in the pool industry and pride ourselves on fibreglass pools that are second to none. If you would like more information on what water features are suited to fibreglass pools or if you have any questions about our swimming pools, get in touch today and one of our friendly team members will happily help if they can.